Chicago Electric Welders is a popular brand that provides affordable and reliable welding equipment. With a wide range of welding machines and accessories, they cater to various applications and skill levels.
The brand offers four types of welders, including MIG, TIG, Stick, and Flux, each with unique features and applications. With a reputation for affordability and reliability, Chicago Electric Welders have become a go-to choice for amateur and professional welders.
So, let's dive into the world of Chicago Electric Welders and discover what makes them a top choice for all your welding needs.
Types of Chicago Electric Welders
1. MIG (Metal Inert Gas) Welders: MIG welders use a continuous wire feed, making them suitable for thin to medium thickness materials. They are ideal for automotive and home repair projects.
2. TIG (Tungsten Inert Gas) Welders: TIG welders use a non-consumable tungsten electrode, making them suitable for thin and delicate materials. They are ideal for precision welding tasks.
3. Stick Welders: Stick welders use a consumable electrode rod, making them suitable for thick and heavy-duty materials. They are ideal for outdoor and construction projects.
4. Flux Welders: Flux welders are similar to MIG welding but without the use of shielding gas. They are suitable for light to medium thickness materials and are ideal for hobbyists and DIY enthusiasts.
Understanding the differences between these types can help individuals select the right welder for their welding needs.
Best Chicago Electric Welders Models
One way to identify the best models of welding equipment is to compare the pros and cons of each type, such as MIG, TIG, Stick, and Flux, and determine which best suits the project requirements, budget, and skill level.
The following are the best models of Chicago Electric Welders for each welding type:
Chicago Electric MIG Welder 170 – Best for MIG Welding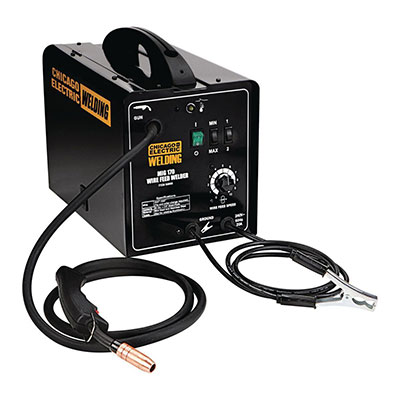 The Chicago Electric MIG 170 is a powerful 170 Amp-DC, 240v MIG/flux-cored welder perfect for novice and experienced welders.
This hassle-free welder comes to set up for flux core arc welding, requiring only the addition of shielding gas and other necessary components for full MIG welding applications.
The MIG 170 offers both MIG and flux core arc welding capabilities, providing versatility for various welding projects.
Performance: Reliable and smooth welding.
Advantages: Easy to set up and use, versatile settings.
Chicago Electric Stick Welder 225 – Best for Stick/TIG Welding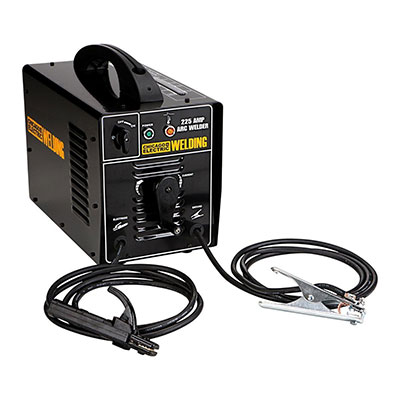 The Chicago Electric Stick 225 is a powerful 225 Amp-AC, 240V stick welder designed for TIG and Stick welding.
This robust arc welder generates an arc of up to 225 amps AC and 270 peak amps, ensuring strong welds with easier starts and reduced arc blow.
The Stick 225 is perfect for a wide range of welding applications, making it an ideal choice for beginners and experienced welders.
Performance: Powerful and heavy-duty welding capability.
Advantages: Suitable for various materials, durable construction.
Chicago Electric Flux Welder 125 – Best for Flux Cored Arc Welding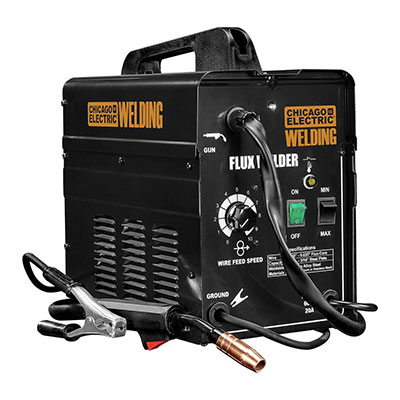 The Chicago Electric Flux 125 Welder offers the benefits of wire welding without the need for gas, making it a versatile and user-friendly option.
Designed specifically for flux core arc welding (FCAW), this welder uses self-shielding flux-cored welding wire, eliminating the need for gas bottles or regulators.
With easy set-up for gasless flux-cored welding, variable speed wire control, and thermal overload protection, the Flux 125 Welder provides dependable performance in a compact and lightweight package.
Performance: Decent welds for hobbyists and DIY enthusiasts.
Advantages: Easy to use, no need for shielding gas, affordable option.
Factors to Consider When Selecting Your Chicago Welder
When selecting a welder, important considerations include skill level and budget. Here are three factors to consider when choosing a welder:
1. Project needs: The welding you plan to do will determine the type of welder you need. Consider the thickness of the materials you will be welding and whether you need a specific type of weld, such as TIG welding for precision work or stick welding for heavy-duty construction projects.
2. Skill level: If you are a beginner, choose a welder that is easy to use and has a shorter learning curve. More experienced welders may want a more advanced model with more features and settings to customize their welding process.
3. Budget: Welders come in a range of prices, from affordable options for hobbyists to high-end models for professionals. Consider how much you are willing to spend and what features are most important to you to find the best value for your money.
Frequently Asked Questions
Can Chicago Electric welders be used for welding aluminum?
Chicago Electric Welders can be used for aluminum welding, but it is important to note that MIG and TIG welders are better suited for this task compared to Stick and Flux welders. The choice of welder depends on the thickness of the aluminum and the required precision.
How long is the warranty on Chicago Electric welders?
The warranty duration for Chicago Electric welders varies depending on the specific model and retailer. Customer service can assist with warranty claims and provide coverage information.
Are replacement parts readily available for Chicago Electric welders?
Replacement parts for Chicago Electric Welders are readily available, and the company offers technical support for their products. Researching and comparing models to ensure the best fit for project needs and budget is important.
Are there any safety precautions that need to be taken when using Chicago Electric welders?
Important safety tips include wearing Personal Protective Equipment (PPE) such as gloves, long-sleeved clothing, and eye protection. Proper ventilation, grounding, and avoiding welding in wet or flammable areas are also necessary when using Chicago Electric Welders or any welding equipment.
Conclusion
Chicago Electric offers a variety of welders to suit different needs and budgets. To make the best choice, determine your project requirements, skill level, and budget before making a decision.
If you plan to work on various projects, consider investing in a multi-process welder for versatility and future growth.