A backfire flame arrestor is a piece of equipment that should be installed on any boats you own with inboard motors. Boats with inboard engines have been obliged to include this safety equipment. The flame arrestor is designed to prevent flames from an engine backfiring from lighting additional fuel and causing a fire to spread throughout the vessel. 
Flame arrestors must be in good and serviceable condition and approved by the U.S. Coast Guard, Underwriters Laboratories (UL 1111), or the Society of Automotive Engineers Standard (SAE – J-1928). All motorboats with enclosed gasoline engines, except those with outboard engines, must have a backfire flame arrestor on each carburetor. 
Inspection of Boat Backfire Flame Arrestor
The backfire flame arrestor must be in good working order to perform this vital role. Check the boat's backfire flame arrestor on a monthly base and make sure that it is cleaned. You should inspect the arrestor for any holes or other problems and ensure it is firmly secured to the engine. 
Boat Backfire Flame Arrestor Cleaning Procedure
This arrester's function safeguards the gasoline tank from engine backfiring, shields you and your boat from unintentional explosions, and prevents fires. It prevents the combustion of fuel vapors from the boat's motor backfire when fitted to each carburetor, hence its name.
The mesh should be cleaned frequently to enhance flow and boost productivity. For cleaning, you can use various chemicals. Here are some easy steps for cleaning backfire flame arrestors: 
The flame arrestor must be cleared of all debris, as this is a crucial step. To do this, remove the flame arrestor. 

Look for a high-quality, approved 

backfire flame arrestor

 cleaner from a marine supply store. Using a high-quality cleaner will lessen the possibility of significant problems. 

Disconnect the arrestor part from the engine compartment without harming nearby engine compartments and components. Take pictures of the location to reinstall correctly as well. 

Apply cleaner to the arrestor and let it soak to help break down debris. 

After the suggested soaking time has passed, use a water hose to spray the pollutants. Spray not only the interior but also the exterior. 

When reinstalling the part and running the vessel, wait for the drying of the flame arrestor. If the motor is reinstalled too soon, the gasoline engine may function poorly due to water. 
Before using the boat for long distances, test it to ensure it works properly and that all its parts are tightly fixed. Cleaning is largely influenced by how often the boat is used. However, when a flame arrestor clogs, there are visible signs. An engine with a clogged backfire flame arrestor cause the boat's engine to have low performance. 
Working of Backfire Flame Arrestors
A flame arrester extinguishes flame by breaking it into several tiny pieces. These flamelets lose some of their heat during the process, which causes them to cool. Heat is removed from the area by conduction. It finally manages to extinguish the fire by bringing the burning gas just below the temperature at which it automatically ignites by collecting self-heat from flaming fronts. 
A backfire flame arrestor acts as a fire suppression device which comprising several flame filters. Such flame filters are simply curved wire mesh with tiny pores that allow a gas mixture to flow through. The flaming front slows it down as it passes through these holes, allowing the curved wire mesh filters to remove the heat. 
Choose the Best Backfire Flame Arrestor
It is best to purchase a suitable arrestor for maximum protection. The manufacturer's instructions must be followed to choose the best backfire flame arrester for the boat, you may also consider the following points: 
The kind, molecular mass, and density of the gas mixture must be determined. This aids in choosing the ideal

 backfire flame arrester

 structure and components.  

The service life of a boat arrester varies depending on the type of material utilized and the gas combination. Before making a final purchase decision, one must keep this in mind. The manufacturer should supply enough details about the flame arrestor. 

The highest and lowest working pressure varies, which can effectively put out a fire in any circumstance. Having the proper flame arrester element is crucial.  

A flame arrestor's temperature range specifies the highest and lowest temperatures at which it can function. This makes it possible to choose the best design for these problems. 

Information about the pressure drop and the temp range is frequently utilized together. This information lets us determine the highest pressure at which an arrester can easily put out a fire if one starts. 
Whether it is a pipe, piece of equipment or flame arrester, it is crucial to understand all linked parts' placements and functions. The manufacturer may assists you in effectively doing routine maintenance and cleaning by giving you information about the boat's backfire arrestor.
Safety of Boat with Backfire Flame Arrestor
Boats with a stern and an inboard engine are more sensitive to fires, particularly those brought on by engine backfiring. Thus boats are installed with a backfire flame arrestor device as an extra safety step. These tools extinguish flames that may flare up during an engine backfire. These flames might ignite the fuel.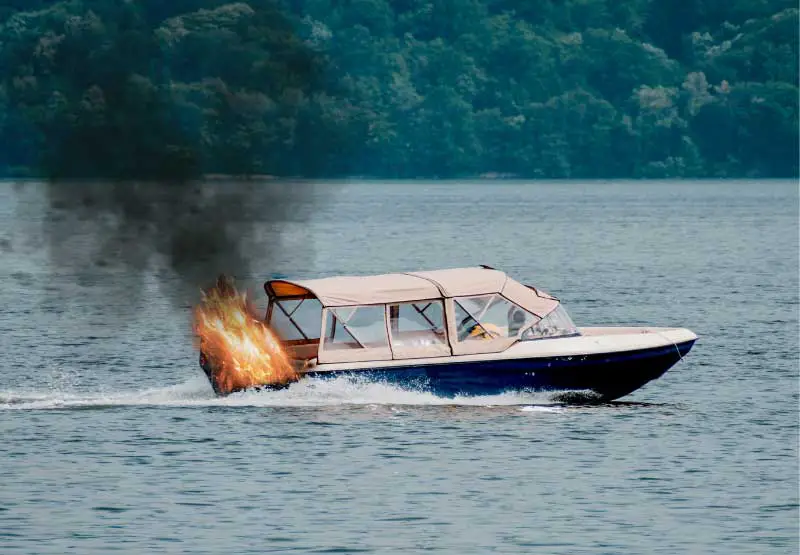 On boats with gasoline-powered engines, backfire flame arrestors are required. A backfire flame arrestor also requires approval from laboratories of engineers in the USA. Inspect the arrestor for damages and ensure it is tightly fastened to the engine to maintain the backfire flame arrestor's performance.
Conclusion
Maintaining the backfire flame arrestor is crucial. All motorboats have this requirement except outboard motors. Ensuring that your Flame Arrestor is clean and undamaged is very important. The boat owner or operator must ensure it is cleaned and regularly inspected to maintain good operating order. It should be taken apart and cleaned with a cleaner to remove any fuel or debris. After cleaning, you should look for any symptoms of damage. Reattach the device properly after inspection.
After reading the above guidelines, you can now easily inspect and clean your boat's backfire flame arrestor.