Working on DIY projects is very satisfying as a professional welder or a beginner and helps you perfect your welding skills. Getting scrap metal is not hard; as we speak, you may have some scrap at home.
You can turn the scrap into something beautiful which can be used as an inspiration for the next welding project that you will handle. You can either build these scrap welding projects for your home or sell them. This article explores some of the easy welding projects for beginners using scrap. 
Tools You Need to Get Started On Your DIY Welding Project
Safety equipment includes safety glasses, a welding helmet, and gloves to protect yourself from sparks while working with hot metals. Find out the Best Welding Helmets Here!
Welder is the most important tool in your arsenal and can range from a MIG or TIG welder to a simple soldering iron or flux-cored arc welder (FCAW).  Find out the Best TIG Welder Here, and the Best MIG Welder Here!
Grinder to grind down any rough edges on the metal you are working with. 
Clamps – these are used to hold the metal pieces in place while welding. 
Hammer – used for shaping and forming scrap metal pieces. 
Metal cutter – for cutting the scrap metal into smaller, more manageable pieces. 
Tape measure – allows you to accurately measure any cuts or angles you need to make in the metals before starting your project.
Easy and Creative DIY Welding Projects Using Scrap Metal
Coat Rack or Hooks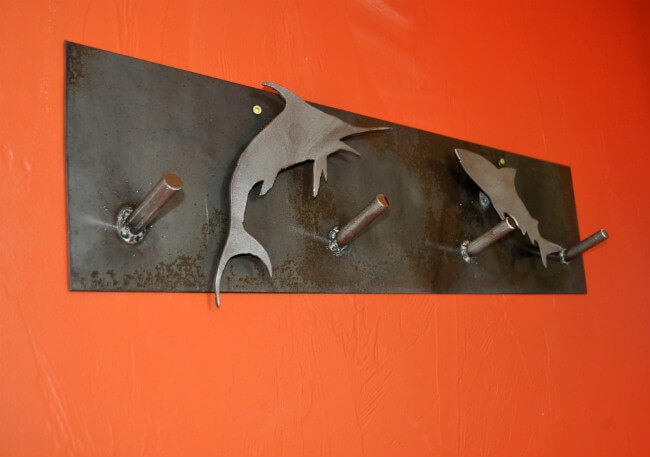 This rack is one of the easy welding projects for beginners using scrap. It requires a few pieces of metal to make a coat rack or hook that can hold up to five coats. In addition, making this coat rack is not complicated and does not require too much expertise.
It just requires one to be creative and have hands-on experience. This project is it if you are looking for an easy welding project that you can create using scrap.
Use an MIG welder to give the coat rack a professional look and smooth out rough edges to keep your coats and clothes from snagging.
The coat hooks can be used daily, and it also helps keep the house neat. For instance, when a guest visits, he can hang his coat on the coat rack or hooks to keep the entryway neat and organized. 
A Phone Stand
This phone stand is another great welding project idea for beginners. Beginners in welding can easily make a phone stand using a couple of bolts and angled bars. This stand is very convenient, especially when you are multitasking.
As a beginner welder, you can create this small welding project and give it a nice paint job afterward to make it fit in the interior. You can also sell the phone stand to others who may need it. 
A Tool Box
A toolbox is essential for any welder. The toolbox makes it much easier to keep all the welding tools you need in one place to avoid misplacing them.
Making a toolbox is an easy welding project for a beginner welder, requiring only basic welding skills. This project will teach you the importance of paying attention to the heat. A beginner in welding can easily make a toolbox with minimal weld defects when making a corner joint on thin steel sheets.
This project is also a great opportunity to practically apply the different welding techniques and skills learned in school, such as making a corner joint on a thin metal sheet. 
Steel welded Desk Organizer
This project is one of the best welding projects for beginners. As a welder, having a small office is important. This organizer gives you a safe place to store all the projects you have worked on. A desk organizer is another scrap welding project that any beginner can make.
This excellent welding project idea requires a few metal sheets that can be turned into circular or rectangular shapes, depending on the design you want to work with. A desk organizer only requires a few tack welds to hold it together.
You can keep the steel finish or paint the desk organizer any color. It is a simple project but looks very nice, even with a plain steel finish. The desk organizer is also a perfect gift for your friends or family. 
A Welding Table
A simple DIY welding table is a cool, easy project. Furthermore, a simple welding table is a necessary piece of welding equipment. At times, buying a welding table is very challenging, especially if you do not get the design that you want.
So, you can make this welding table to satisfy your needs, taste, and preferences as a beginner. This project is a perfect way of bringing your dreams into reality. This small welding project is an excellent welding project idea that helps beginners practice the uniform shape and alignment of square metal tubing. 
A Picture Frame
It is time to have something new and unique in your home. A picture frame is an easy welding project for the welder to sell or keep. Whenever someone enters the house, they will appreciate your welding skills.
You can always refresh your old tables and coffee tables with brand new frames out of preferred material you can weld yourself. You do not need to spend big bucks but remember that they might require more welding skills.
Welding a picture frame is easy. It needs square tubing and basic welding skills. Use a spot or TIG welder in this welding project. You can use an angle grinder to give the steel tubing a shiny finish. You can either paint and sell it or keep it at home and maintain its steel finish. 
Jewelry Tree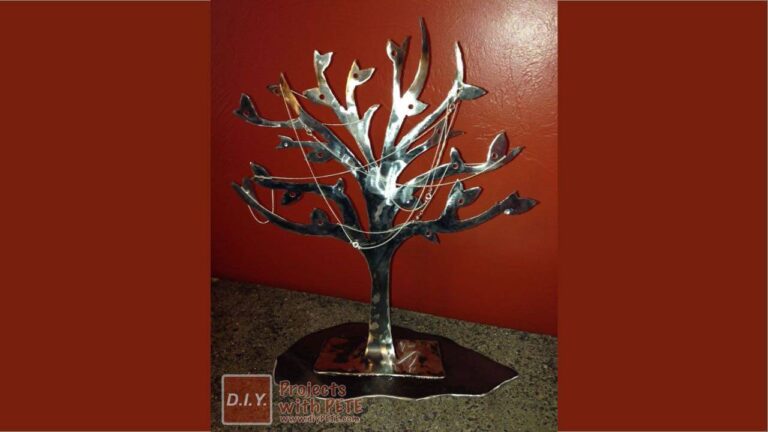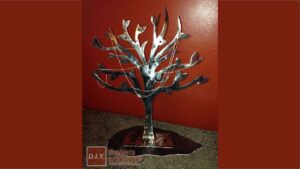 This jewelry holder is a perfect gift for your loved ones. A jewelry tree is a perfect scrap welding project for beginners with an added advantage, especially for those who have never used a plasma cutter.
It gives you a chance to experience how this tool works and how to get your desired shape of the jewelry tree. All you need is a scrap piece of metal and put your imagination to use. You can create different designs depending on the image you have in mind. One advantage of working with scrap and creating different projects is that the projects do not have to be perfect.
For instance, with the jewelry tree, you can make it take any shape you like as long as you hang your jewelry on it. 
A suspension Stool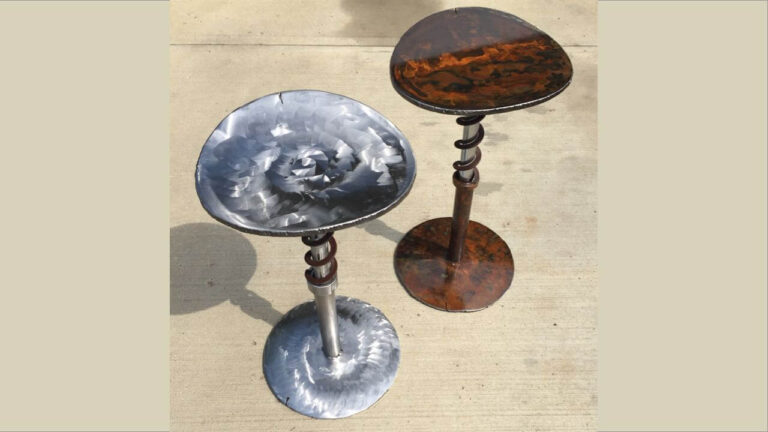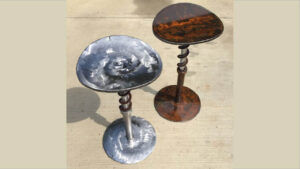 Another advantage of creating these cool welding projects is that they can become lucrative if you are keen on details. These beginner welding projects are a good step for beginners who want to hone their welding skills, advance in their welding career, and be professionals in the future.
Interior furniture made using metal is increasingly popular. You can add different finishing methods to the suspension stool to suit the needed interior design. 
Key Holder
If you are looking for a straightforward, easy-to-make, and small welding project, then a key holder is the best project for you. As a beginner, you need to start working on smaller projects that will not give you a hard time as you learn and advance slowly.
This DIY project requires two different rebar diameters, clean metal pieces, and a few welds. You can clean the rebar with shiny steel to make the key holder more attractive on your wall. 
A Dustpan
A metal dustpan will outlive any plastic dustpan you have had before. It is even better if you are extremely passionate about welding since you will have fun welding and grinding scrap metal. This project is a very easy small welding project that any beginner can handle with scrap material and some bolts. 
A Washer Bowl
Old washers can be repurposed into a bowl. This washer bowl is an easy gift idea if you want the perfect gift for your parents. As a beginner, you can use any welding machine to make a washer bowl.
This simple project will allow you to practice your welding skills without spending much on equipment! However, do not weld washers to the base. You should use a ceramic bowl for the base, especially if it is heat-resistant, to weld them together in the shape of the base bowl. However, it is recommended that you use the TIG welder to bring this project to life.
A Chain Wine Bottle Holder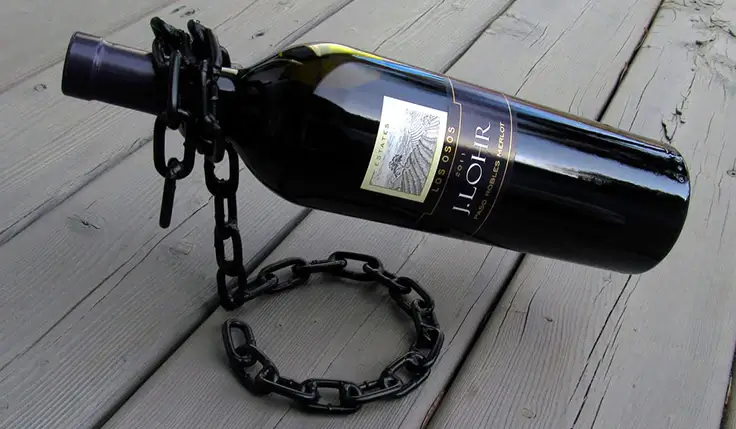 A Chain wine bottle holder is another straightforward welding project for any beginner. All that is needed is a thick chain, an empty wine bottle, and welding equipment.
Most novices prefer using Arc and TIG welding techniques. With this, you will create a chain wine bottle holder that looks amazing and offers maximum support to your wine bottle. This wine bottle holder is one of the easy welding projects to make, and it takes roughly half an hour to complete.
Hanging Shelves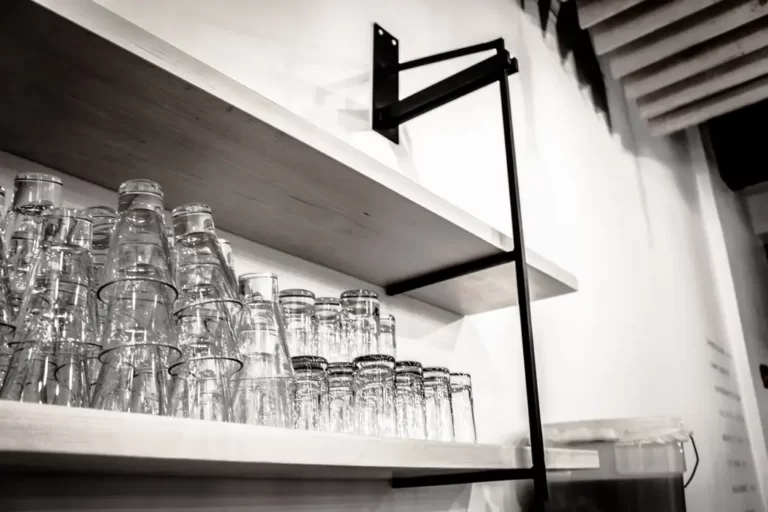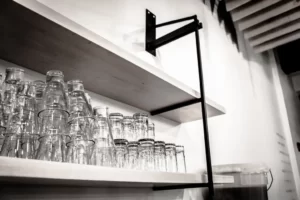 Instead of the usual wood hanging shelves, you can add a little style to your kitchen by adding metalwork. Hanging shelves made from scrap is strong and gives your house a modern look, regardless of where you decide to put the shelf.
It is one of the things that will capture the attention of your guests when they visit, and this can be a lucrative opportunity. 
A 
Fireplace Screen
This DIY welding project works perfectly for those who do not love open fires in their houses. And makes it very vital to create a welded fireplace screen that is simple and appealing at the same time. This screen prevents even the babies in the house from getting curious and toughing the fire.
Paired Block Table Set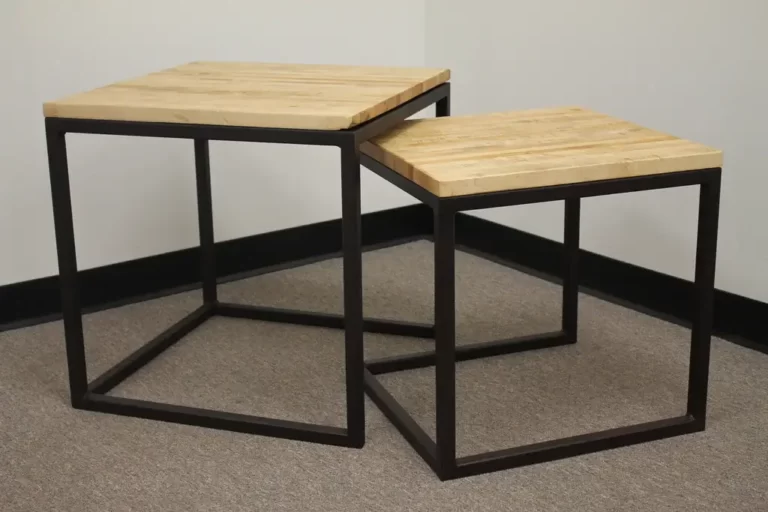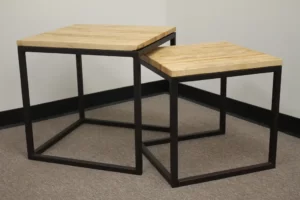 This is one of the modern table sets currently on the market. This table set works perfectly when many guests are over, and there is insufficient space to put their drinks and other personal items.
To make this design even more interesting, you must make the table set so one can easily slip under the other. This table set creates more space in the house, providing an option for extra tables or stools. 
Stainless Steel Vase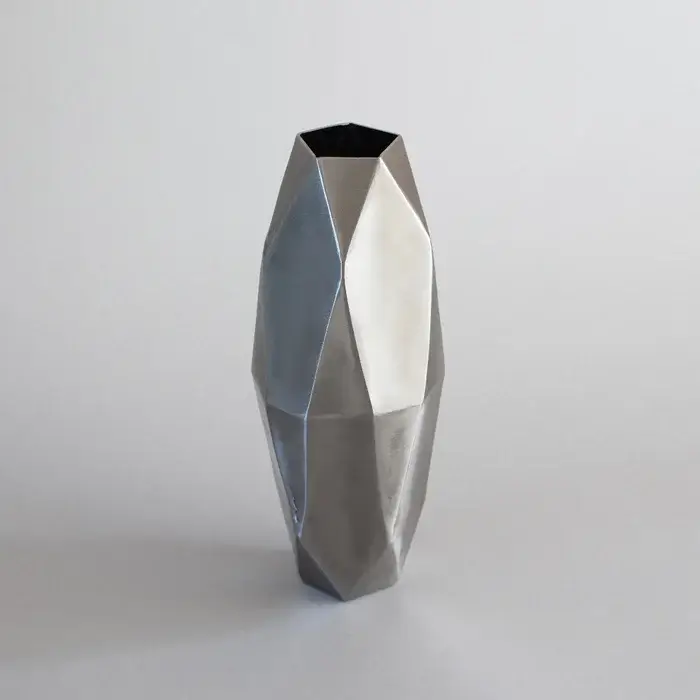 If you want to get the attention of your guests when they visit by showing your welding skills, then you should create this scrap welding project. Many will ask themselves where you bought the steel vase and might want to order more.
Again, this is all about turning your imagination into reality. Create an impressive design that will complement flowers when added to it. It can also look amazing as a stand-alone vase without any flowers.
Modern hanging steel pan rack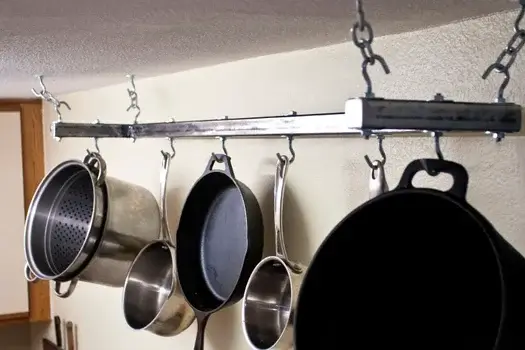 If you are passionate about cooking, you know that having more space in the kitchen is essential. Building the modern hanging steel pan rack is easy, especially if scrap is lying around.
You might need extra materials to create this DIY project, but it is still inexpensive. Create a pan rack as big as you desire to enable you to hang your pans well without overcrowding them in one place. 
Portable Welding Fabrication Table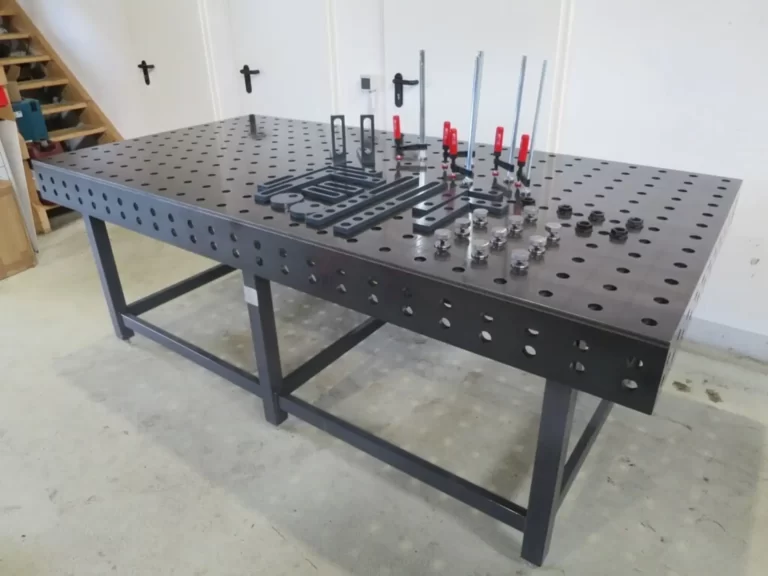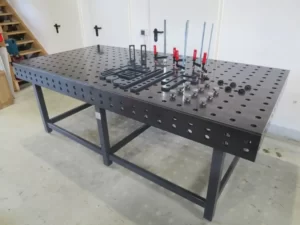 With the right tools, you can create anything you like in minutes. The scraps in your garage can be very useful when making this portable fabrication table. With the basics of welding, any beginner can make this portable fabrication table.
To create the square look, you can use the cheesy corner clamps because the cheesy corner clamps do not resist the drawing of cooling weld metal. 
Industrial Coffee Table
DIY an industrial coffee table from the scrap laying idle in your house. As much as it may take a few hours to finish making this coffee table, the result is worth the wait.
This project is also a perfect opportunity to learn how to create more complex scrap welding projects. The hands-on experience makes it very easy for the beginner to put all the theory learned during the welding course into practice. 
A Storage Rack
Have you been looking for the best place to keep your PPE to make your room more organized? This DIY easy welding project is the solution that you need.
If you are a beginner welder and like using MIG welder, creating a storage rack is the best welding project for you. All you need to do is to find space and be creative in your work. This storage rack can also be put anywhere where you need additional space. 
Security Door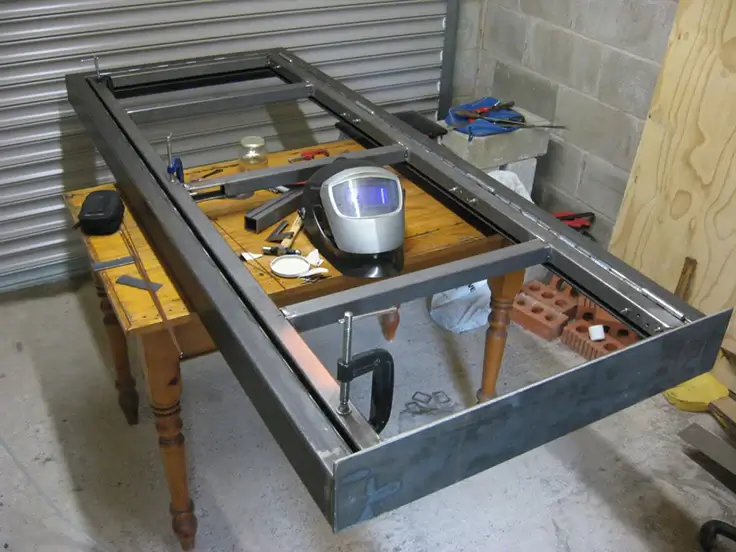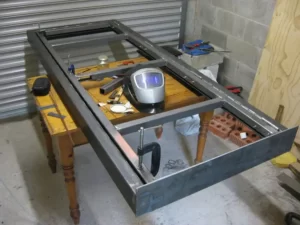 An advantage of creating scrap welding projects is that it gives you more exposure and experience in creating more complex projects. You can use this new hobby to increase the security of your home.
You can use different metals depending on how strong and sturdy you want the security door to be. If you want a high-quality look and finish, you can use the TIG welding tools. 
Metal Plant Pots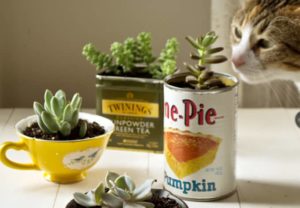 Creating a metal plant pot is the best option if you are going for style and versatility. Any scrap metal with a suitable shape can be used in making the plant pot. For instance, you can use household items like spoons, other utensils, and old food cans to make metal plant pots and add a few welds to increase their aesthetics.
It will allow you to practice your welding skills without spending much on equipment! We recommend using TIG welding techniques for better aesthetics.
Remember to sandpaper down the edges of your scrap metal when making the plant pots so you do not injure yourself. You can get the most out of your metal plant pot with the right tools and imagination. 
Tiny Tea Lights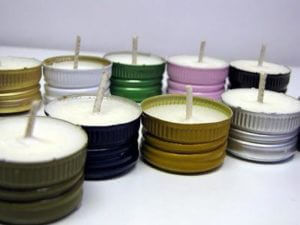 Scrap metal should never be thrown away, however small or big. These scraps should be reused most creatively to make different DIY projects. Have you ever wondered what you could create out of metal bottle tops? You can create tiny tea lights with metal bottle tops. You can easily turn these bottle tops into little tea lights and paint them different colors to bring more beauty to the tealights. 
A Sign Holder
Most businesses usually seek the best way to differentiate themselves from others. Creating a sign holder is a small welding project that any beginner can work on.
Making a sign holder is profitable; all you have to do is weld together some wrought iron with a basic MIG welder. You can use a TIG welder for cleaner welds, as this creates a positive first impression for all entrepreneurs who visit the business. 
A Wheelchair Ramp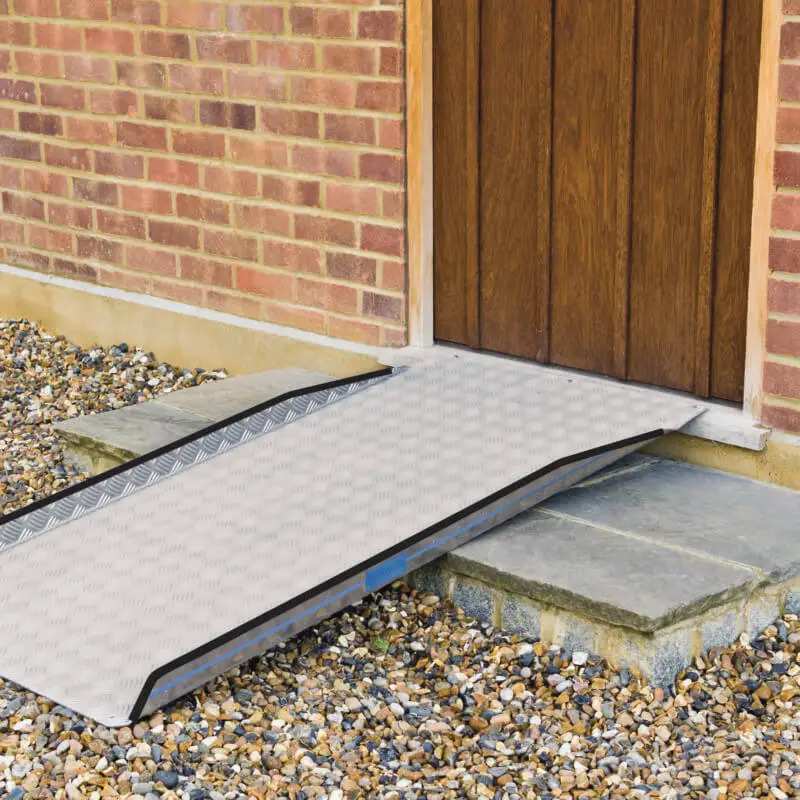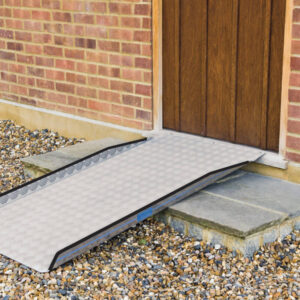 Creating a wheelchair ramp is very thoughtful of an individual. It makes movement for people with disabilities in wheelchairs a little easier. Use a strong scarp metal when making this ramp, and create it while having all the needs of people with disabilities in your head.
In addition, a welded wheelchair ramp stands up in all weather conditions, making it safe for any weather conditions. 
Frequent Asked Questions
What kind of welding projects can I do with scrap metal? 
Scrap metal can create various interesting and functional welded projects, such as garden sculptures, furniture, artwork, tools, etc. You can turn scrap into something unique with the right welding skills and imagination!
How can I get scrap metal for my welding project? 
You can get scrap metal from various sources, such as construction sites, demolition yards, junk yards, or online retailers selling scrap metal. You may also have some scraps at home already!
What type of welding machine should I use for a scrap metal project? 
The type of welding machine you need will depend on your project. A TIG welder is typically the best choice for smaller projects like garden sculptures, furniture, or artwork. Consider using a MIG welder for larger projects like a fire pit or tools cart. 
How do I know what type of welding process to use? 
The type of welding you should use depends on the thickness and type of metals being joined. Generally, MIG and TIG welding are best for lighter metals like aluminum, while stick welding is great for thicker materials. TIG welding is the one you should go for in furniture and artwork.
How can I make sure my welds are safe? 
It is important to properly prepare all surfaces before welding and use the right type of filler materials and settings on the welder. It would be best to practice proper safety techniques when performing a weld, such as wearing protective clothing, helmets, and goggles.
Conclusion
In summary, any beginner welder can create different easy welding projects. Creating small welding projects from scrap is a great way to learn how to weld. Regardless of the welding projects for beginners that you are working on, always remember to wear protective equipment, including a welding helmet that fits you perfectly.
In addition to that, pay close attention to the scrap material you are working with to avoid unnecessary accidents. All of the above beginner welding projects are a great way of boosting your skills.
References: