Opportunities in the welding business are expanding, and becoming certified as a welder is a great way to advance your career. Being a welder requires ongoing learning and skill development, and the work frequently presents exciting obstacles. But when you take the correct procedures, being a qualified welder is pretty simple and costs much less than getting other professional credentials.
Certification is not usually required, but getting certified is essential if you want welder success and a strong resume for landing a rewarding job at your preferred welding company.
What Is a Certified Welder?
The American Welding Society (AWS) is one of the certifying bodies that certifies qualified welders. Working welders can earn this certification as proof of their skills. As a qualified welder, you are responsible for completing welding jobs according to your client's specifications.
You must thoroughly know how to properly weld metals such as stainless steel, aluminum, and brass. Depending on the industry you work in, you may have additional responsibilities. You must be capable of reading blueprints and follow a higher level of understanding to be successful in this position.
Educational Requirement for Certified Welders
When it comes to welding, certification is required before acquiring a high-paying profession. Employers' needs for a welder can vary widely. Some companies only hire certified welders, while others will train new hires through apprenticeships and on-job training.
Welders must have at least a high school diploma. While earning their high school diplomas, some welders train at vocational high schools. Others pursue post-secondary education through specialized vocational training or a college degree.
The length of a formal program might range from a few months to several years. A Welding Certificate, an Associate of Science in Welding, or possibly a Bachelor of Science in Welding Engineering can be earned at the end of the program. Students in a welding program learn how to heat, shape, and weld metals to create long-lasting connections. You will likely be taught these techniques if you're interested in learning how to weld and cut metals.
How do you get certified as a welder?
Experience and proficiency in welding are prerequisites for certification as a welder. According to the American Welding Society, no formal schooling is necessary to be a certified welder. However, most businesses prefer candidates with a GED or high school diploma and technical or vocational training.
AWS will send you a card and instructions on how to get certified and renew your certification. As well as a copy of your testing results and payments, the testing facility will send all of this information to AWS's main office. After that, the main office will execute your certifications card and add you to its database as a certified welder.
You can follow the simple guidelines in the following steps to help you get started on the road to welding certification:
Attend and pass your welder's schooling course. You can find a local welding school using a variety of websites. Your local community school may offer a welder's training program to prepare for a certification test.
Learn the specific written welding procedures that apply to the kind of exam weld and practice making welds in accordance with those procedures. As a welder, you will be tested on your ability to weld using the method you are studying for in a practical exam.
Whether you completed or failed the test, you will be informed of your certification status on the spot, the day following the exam, providing that you passed. However, you can rearrange the next possible exam date if you fail the first time. Before you repeat the exam, put in more practice time to sharpen your abilities in the fields that are giving you trouble. Remember that if you fail the exam a second time, you will be required to pay an additional $30 examination cost.
What Skills are needed to be a welder?
To be a skilled welder, you must have the following abilities:
Strength: Because they work with metals and heavy equipment, welders need to be able to lift at least 50 pounds.
Stamina: The ability to stand for lengthy periods in crowded, hot environments is a must for welders. They cannot allow exhaustion to affect their performance.
Attention to detail: Strict attention to detail is essential for high-quality welding.
Teamwork skills: Welders must work well as part of a team, communicate effectively, follow instructions, and lead when necessary.
Adaptability: As a welder, you must be able to adapt to new situations. You have to be able to take on that role, bounce, and roll with the punches when things go tough.
Commitment to Safety: Welding is a dangerous profession that requires a strong dedication to safety. To be a safe worker, you must go above and above the call of duty.
Reliability: Welders depend on other workers to do their work so that they can accomplish their own. The capacity to work swiftly and accurately and overall dependability in the profession are all essential for success.
Commitment to learning: As a trained welder, you will need to keep your abilities up-to-date to maintain your certifications. Welders that succeed are dedicated to learning and improving their craft over time.
Math Skills: It is important for welders, whose job must be accurate, to have a good grasp of math. Geometry, algebra, and the use of fractions are all skills that are critical for success.
Consider Certification
Although many organizations have their internal certification programs, the American Welding current societal Certified Welder (CW) credential is your best bet if you want a performance-based credential without any academic requirements.
Your proficiency with welding techniques used on metal sheets, petroleum pipelines, structural steel, and chemical refineries will be tested on the CW exam. Every six months, you must submit a servicing form verifying your continuous work as a welder to maintain your certification.
Post-Certification Requirements
After passing the exam, you are qualified to weld for any business in the certification industry. With the welding certificate card, you will obtain, you can complete any weld within your certified ranges without running afoul of the law or without any additional permission. Knowing what kinds of crucial welds you might be in charge of is a big responsibility.
Although this duty is perpetual, you must renew your accreditation every six months. You must pay a fee and have confirmation from your employer that you continue to weld to the standard required by the exam to renew it. Although it is a straightforward procedure, but it is inconvenient and expensive.
You will need to retake the entire test if you take a break from the welding industry for some time without renewing your certification. After six months, there is a window of sixty days; otherwise, things must start over.
How Many Welding Certifications Can I Add to My Resume?
As you are already aware, there are various types of employment certificates. But they are not typical. In other words, each employer exam is unique because it follows a different process. As a result, comparing credentials from several employers in the same categories is challenging.
Standardized examination and widespread recognition are benefits of AWS certifications that can enhance the value of your degree. You may strengthen your resume by earning a variety of AWS certifications. You can choose from various AWS certificates to expand your skillset and become a highly sought-after welder in the industry.
Other Welding Certifications
You should be aware that other institutions, including the American Welding Institute and the American Society of Mechanical Engineers, offer worthwhile welding certifications that can raise your stature.
Most of these qualifications call for a specific amount of prior experience. Therefore, they are best suited for welders with at least a few years of industrial experience.
Welding Certification Test Kits
It is natural to wonder, "how do I become such a qualified welder?" if you're considering a career in the welding industry. No single welding certification can qualify you to weld everything; thus, answering this issue is difficult.
The American Welding Society (AWS) and the American Society of Mechanical Engineers (ASME) write most of the codes used in welding certification tests. Almost every welding application has a corresponding code.
Welding certification is not a "license" like in plumbing or electrical trades. Welding processes, materials, thickness, and production positions are all things you will need to keep in mind before you start cutting and welding on every project.
This code is commonly used to weld structural steel, such as the supports and handrails seen on a car trailer. When it comes to the "certification" of a welder, employers are responsible for it. A welder can be tested at the employer's plant under all codes.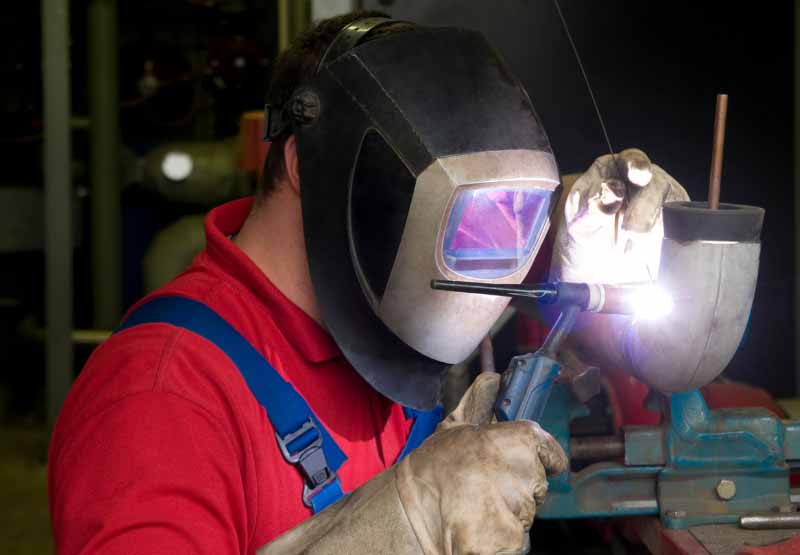 Working as a Welder
When looking for a new job, start with the company you employed as an apprentice. The employer may have paid for your mandatory training, so they want you to begin working for them immediately.
The other option is to use the internet to find positions that match your credentials but do not forget to include any experience you may have since this should assist you in acquiring a job. Alternatively, you might hire a welder recruiter with extensive contacts in the industry.
According to recent reports, welding jobs will likely increase in demand in the coming years, fueled by the necessity for welding in manufacturing and the need to improve national infrastructures.
Salary and Career Progression
For welders, wages might vary greatly from place to place and based on work. The national average income for a welder in the United Kingdom is £27,599 per year, whereas the median wage for a welder in the United States is roughly $41,000 per year.
On the other hand, inexperienced welders might expect to make less money than their more experienced counterparts. Your workplace location, the industry you work in, and the potential dangers on the job can all affect your salary.
You will need to keep up your education and certifications due to the wide range of payoffs. You may also participate in welding communities and attend industry events to stay up to date on the latest trends and advancements. Your pay will go up as a result of specialization in a particular field, such as underwater welding.
Related article: How Much Do Welders Make?
Obtain a Job as a Certified Welder
You might use your welding abilities in the building and infrastructure industries, fabricating machinery, general purpose goods, and automobiles.
The U.S. Bureau of Labor Statistics reported that 418,200 individuals were employed as welders, cutters, solderers, and brazers in 2020. The expected increase in employment from 2020 to 2030 was 8% or around 452,400 people.
The manufacturing industry is most likely to experience the highest demand. According to the BLS, as of May 2020, the median yearly wage was $44,190. However, you have to remember, technologies that boost productivity will reduce the costs of your services.
Advance Your Career
Knowing what kinds of crucial welds you might be in charge of is a big responsibility. You can expand your range of employment alternatives with more training and experience.
If you have leadership abilities and access to capital, you may start your own business.
You will become a welding specialist if you obtain a bachelor degree. Other options include a welding inspector, site supervisor, or welding instructor.
Welders benefit significantly from the fact that their work is recession-resistant. Welders can change sectors if they want because different businesses require similar welding expertise. So, if the business in your domain is lagging, you can confidently apply for a position in another area.
Welding is a flexible profession. You can become a qualified welder after study completion at your nearby welding school, which will not only help you get an excellent welding job but also improve your career chances. However, you must first consider the requirements of this industry to understand what it takes to become a good welder before going any further into how you may become a welder.
Conclusion
Obtaining welding certification is an excellent option for those who want a wide range of work options and the chance to earn more money.
The responsibility that comes with being certified as a welder means that you must be authorized to weld in accordance with the requirements of your specific certification, even if you are not there. This is even more critical for essential welds that could impact the lives or assets of others.
To be highly paid, it is essential to keep your professional skills and qualifications current and up to date by obtaining additional certifications and training.
An exciting element of being a welder is earning your welding certification, which offers many career options. If you are certified, you can weld anything in your certification range on your own, without the need for supervision.
We are confident that obtaining a welding certification will lead to your professional success. There are many benefits to following these processes and not attempting shortcuts, including a high likelihood of passing your welding certification exam.
Reference: